unRAID on Thecus N5550 with 6 drives
Thecus N5550 6th Drive Mod
This post is specific to owners of the Thecus N5550 but will apply to almost all of the Thecus NAS lineup as well. Anyone with Thecus NAS devices knows that the operating system "ThecusOS" has been practically abandoned. The vendor came out with "OS7" but it never fully finished and development died somewhere along the way. It also did not fully support the N5550 and many other models. Owners were left with unsupported devices.
This was fine with me for a while since I never really used the management interface except when configuring or troubleshooting issues. However after a couple years now the interface is very outdated and I was looking for something more modern.
I did upgrade one of my N5550's to "ThecusOS7", a beta version. It was able to install and it appeared to be functional however I was unable to create a RAID volume. Which means I could not use it for much of anything. Not to mention it was clunky and the older UI actually seemed to be more functional. It was clear that OS7 was just trying to mimic Synology's DSM, but lacked all the polish. My attempts to downgrade were unsuccessful and I had pretty much bricked the NAS.
So now what? I have three N5550's and don't want the hardware to go to waste.
Experimenting with other OS…
That led me to doing some experimentation with Xpenology which is a community modified version of Synology's DSM that runs on your bare-metal hardware or virtual environment. I have a Synology DS 1817+ and the idea of having the Disk Station Manager (DSM) OS running on my other NAS systems is very interesting to me. My attempts with Xpenology did work on one of them, but I was not able to get it functioning on the other NAS. I also did not like the idea of using a hacked operating system. I wanted something easy to update and maintain.
I also tried FreeNAS and NAS4Free but I have never been a huge fan of either of them. FreeNAS is primarily ZFS based which requires a lot of RAM, something the N5550's don't have a lot of wiggle room for. I also had Windows Server 2019 running on the N5550 without issue.
Discovering unRAID
I then decided to check out unRAID. I simply needed capacity with some kind of drive protection so I didn't exactly need a RAID configuration so unRAID sounded ideal. I fell in love instantly.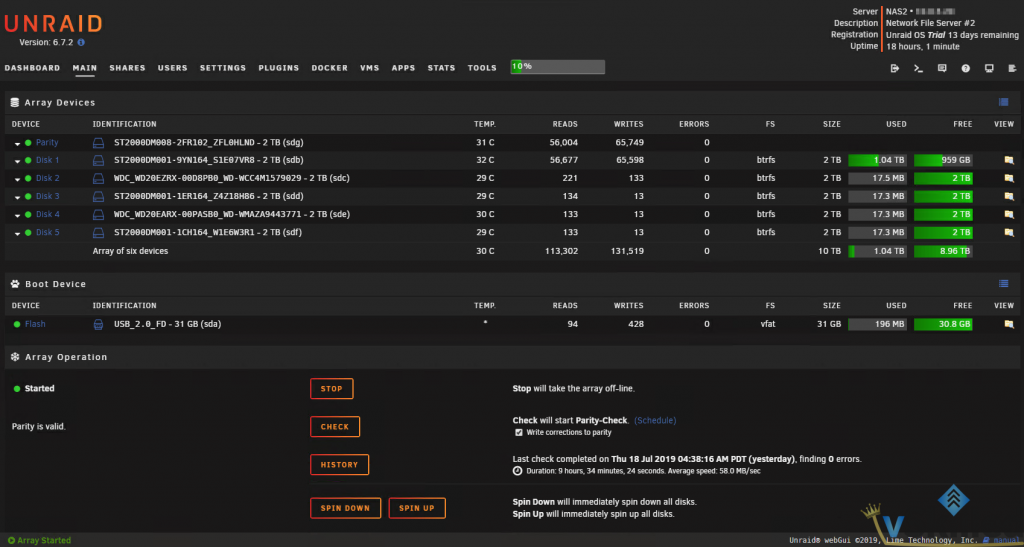 Pros:
unRAID operating system on a Thecus N5550
Stable
Easy to install, maintain, and update
Link bonding and LACP is working
No issues with detecting the IO or network drivers
Cons:
Unsupported configuration – technical expertise highly recommended
HDD activity lights do NOT work (blue "on" light, but no flashing of activity, or red error lights)
LCD screen does NOT work (stays stuck on "Starting health checks")
Slower write speeds due to how unRAID works
6th Drive Mod for N5550
After looking closer at the inside of the N5550 I discovered that the DOM module that is used for the ThecusOS uses a SATA port. Hrmm… I immediately started investigating on how I could use this extra SATA port.
The issue was power. I needed SATA power for a drive. There was a 4-pin mini molex slot right there I just needed to find the right cable. I looked everywhere. Finally eBay came to the rescue. A seller was offering a "Power SATA to 4-pin Mini Molex cable adapter". Perfect! I ordered three, one for each of my N5550s.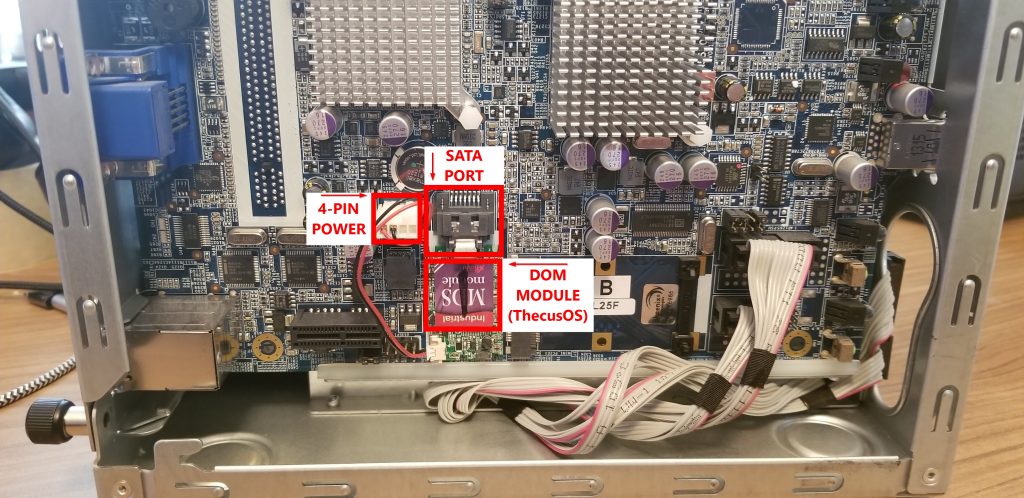 This mod will allow you to add a 6th drive to your 5-bay N5550 NAS using the SATA and 4-pin power slot after removing the 1GB DOM module.
Before we begin…
AT YOUR OWN RISK! Unsupported and may void your warranty.
Backup and migrate your data. ALL DATA WILL BE DESTROYED!
Remove the 1GB SATA DOM module
Bootable USB (32GB recommended) to be used for the unRAID OS
Change the boot order (Press F2 during POST)
Install a 6th drive
Removing the SATA DOM module: The ThecusOS is saved to the 1GB DOM module so if you need to restore then you can simply re-install the DOM, switch your boot order back, and be back to original state. I recommend you carefully remove the DOM and set it aside.
6th Drive: After removing the DOM module this free's up a SATA and 4-pin floppy power port on the motherboard. This can be used for a SSD or HDD to boot an OS or increase your drive pool to 6 drives. Either is a good option. The choice is yours.
No room inside the case for the 6th drive: The trouble with the 6th drive mod is that there is almost no room inside the case. You might be able to squeeze a 2.5″ drive in there but certainly not a 3.5″ drive. My solution was to cut the case and simply have the extra drive outside the case. It's not pretty but it works. If you're considering this change for your N5550 then I am sure that you're on the same page.
Hopefully this helped for owners of Thecus products. The hardware is still usable. Just rip out that DOM module and install whatever you want.
Did this work for you? Let me know in the comments below!