New Synology DS1817+ NAS & ISP Switch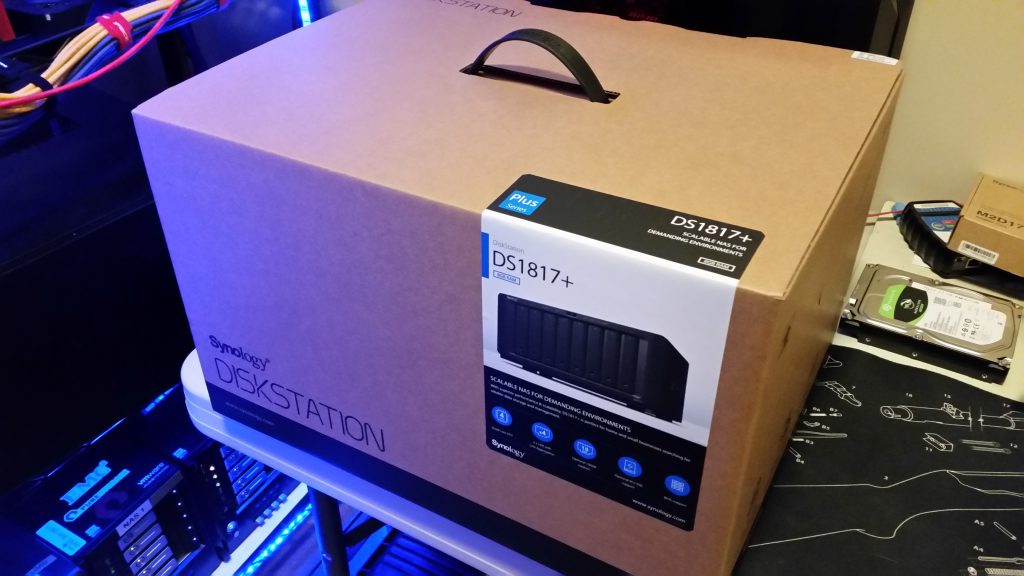 By the end of 2017 nearly all my NAS servers were close to reaching full capacity. I had already pre-decided on getting a Synology DS1817+ but it was just a matter of when. I wanted something that was more than five bays and would be upgradable to 10G networking in the future. The DS1817+ seemed to match all of my needs and my budget.
Synology DiskStation DS1817+
I decided on the Intel Atom C2538, Quad Core 2.4 GHz, 8GB DDR3 model. I also threw in the M2D17 dual M.2 SSD adapter card with two Crucial MX300 275GB SATA M.2 2280SS SSD that will be in RAID 1 for a read-write cache. I am using 4x1Gbps links in LACP giving me up to 4Gbps of network speed depending on the situation. During the data migration I was able to hit 2.5Gbps which is awsome.
One part of getting a new NAS is having the appropriate amount of "swing space" to move all your data onto it. I already had 7 x 4TB disks on hand, so I only needed to purchase one new 4TB drive and managed to do so on a great Amazon.ca deal for $99. I managed to have just enough space to move to the Synology. The data transfer took about 48 hours of sustained transfer, which I closely monitored.
I am using SHR2 which is Synology Hybrid Raid and the equivalent to RAID 6 on the BTRFS file system. With 8x4TB disks that puts me at 20.93TB of usable space.
Since I do not have a 10Gbps network yet, I decided I might as well try SSD caching to get the most performance out of the NAS. I have been getting fairly decent cache hit rates but I will have to evaluate this after a longer duration of metrics has been collected.
Overall I am quite impressed with the Synology NAS. The interface is easy to use and the device performs great for my needs. The Synology DS1817+ has now become my primary NAS and fully replaced my old Thecus N5550. I haven't decided what to do with the older NAS server yet but I may just keep it as a cold-spare for the time being.
Switched to Telus Internet
I also switched over to Telus for home internet since they offer a Gigabit internet offering that I plan to take use of later on this year. I am now on 250Mbps download and upload compared to 150Mbps download and 15Mbps upload I had with Shaw.
I got fed up with the lack of speed from Shaw. On the phone they told me they were at least a year away from offering a Gigabit plan in my area. That alone is why I switched. Otherwise I have been a Shaw customer for many years.
Before:
After:
Obviously a massive improvement. I can now make use of cloud storage and backup without trying to shove everything into a 15Mbps upload pipe. My Plex server for friends and family now is no longer throttled to 8Mbps outbound.